Blog

For the Love of Fondant
Thursday, September 24, 2015
Posted by The Baking Institute at 02:56 PM No comments:
Fondant – a familiar word with a bad reputation; but what really is fondant?  The textbook definition is "a thick paste made of sugar and water and often flavored or colored, used in the making of candy and the icing and decoration of cakes."  Unfortunately, when brides think "fondant" that is not the definition that comes to mind. Instead, they think "$" signs and chewy, bad flavor and of course the dreaded question, "is that in the budget?".
Here at the Baking Institute, we have become very familiar with the worries and concerns that come to mind when "fondant" is brought up as a decorating technique.  However, we also know its benefits and value.  To us, fondant does not have a "bad reputation", it has a great one.  When our Chefs think "fondant" they think elegance, elaborate details, and upscale glamour.  Why? Because fondant allows us to transform a cake from typical to memorable.
Fondant can be used and manipulated in variety of ways.  It allows for the creation of smooth, elegant surfaces and bright custom-matched colors that buttercream does not.  It also allows for exquisite décor such as draping, elaborate pintuck designs, ribbon work, and designer bows.  Most importantly, it helps transform the surfaces of a cake and gives it that extra element of "shine".
At The Baking Institute, we love working with fondant, but we also understand that your cake should taste even better than it looks.  That is why we make sure that our fondant recipe creates a soft, delicious flavor that does not need to be "pealed off" and instead can be enjoyed with the rest of the cake.   If you still have concerns or prefer buttercream to fondant, perhaps consider using fondant for a portion of the cake design, as opposed to all of it.  With its diversity capabilities, your imagination is the limit!
So next time you are browsing our website or pinterest for your next cake design idea, don't shy away from fondant, Embrace it!  Schedule a design consultation with us and allow us to use fondant to transform your vision into a work of art!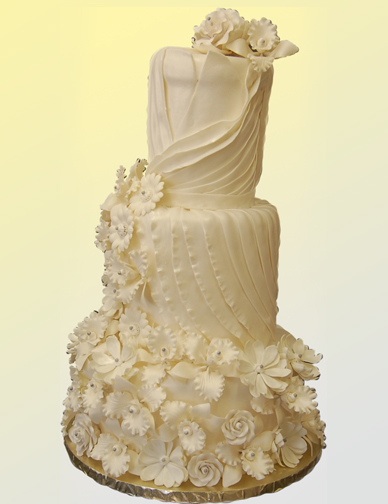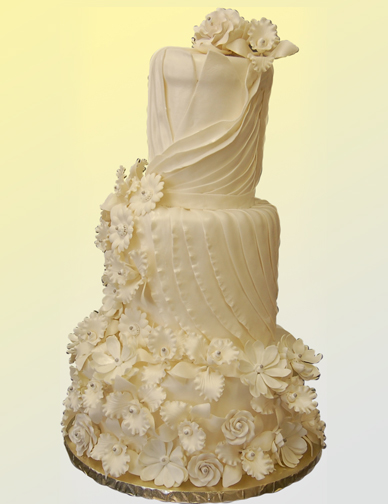 CONTACT US If you would like to make an appointment and schedule a tasting with us,
please call our office at Ph: (847)272-5900 Fax: (847)272-5985