Frequently Asked Questions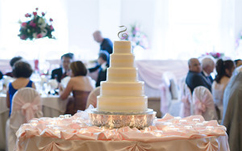 After years in the wedding cake business, we have found that there are some questions that every bride has when they begin to look for a wedding cake. Listed below are some of the most popular ones that we get.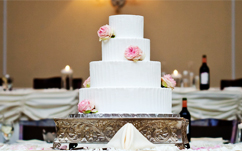 How soon do I need to order my cake?

We usually book consultations 3-6 months event, with May-August being the busy season. Final cake orders should be placed and confirmed no later than 3 weeks out from your event date. For any last minute orders that would require a faster production time, please call us directly.

How do I make an appointment?

Call our showroom directly at 847-272-5900 to schedule a consultation with one of our wedding cake designers. Once your appointment is made we will direct you to our website to make your wedding cake tasting selections. Please do not fill out any tasting forms, prior to scheduling your tasting time and date with us first.

What do I need to bring for my consultation?

It's helpful to come prepared. You may choose a design from our Portfolio (cake number) or bring with you any sketches, magazine photos,or online images that will help us understand and execute your vision. You may also bring color swatches (i.e. ribbon or paint chips), dress fabric swatches/images, or wedding invitations. Visiuals of anything you intend to incorporate into your would be helpful during your appointment. The first consultation is complimentary so the more we can accomplish the better!

What do I get to taste during my consultation?

You will self-select three different cake and filling combinations to try during your consultation. We provide generous slices of cake enough for 4 people. To maintain a cohesive consultation experience we encourage you to bring no more than 3 guests with you to the tasting, a total of 4 people per group. If you would like to try more than three different cake and filling combinations, there will be a $5 charge per additional selection. Please note any additional selections in the comments section of our tasting form.

What is the tasting cancellation policy?

Unlike most bakeries we offer completely free cake tastings and design appointments for all customers. Your cake samples are made just for your appointment and cancellations require at least 24 hours advance notice.  Any confirmed appointment that is a NO SHOW or a cancellation that occur with less than 24 hours' notice, will incur a cost of $25.00 for a rebooking.  The $25.00 will be due prior to your rebooked tasting and design appointment.

What dietary restrictions/allergies do you accommodate?

Please refer to the ALLERGEN STATEMENT on our website for details. If you have any questions please call us directly.

What is included in my venue package?

For customers coming from venues where the Baking Institute is a preferred vendor and the cake is included in the package, our traditional cake and traditional filling options in most flavors are included. This also includes a buttercream exterior design and buttercream decorations in any neutral or pastel color.

What are the options for decorating my cake?

The options are endless and your cake designer will take you through them during your consultation. Options include, but are not limited to, fondant/fondant decorations, variety of sugar flowers, dragees, Swarovski crystals and ribbon, fresh fruit, and more.

Do the inside cake and fillings flavors affect the color of the outside design?

No, it does not. The outside is designed separately from the inside. For more details, ask our designer during your complimentary tasting and design appointment.

Can you recreate a picture from a magazine?

We do it all the time!! Many people like our reproductions better than the original we are copying. We love to see new ideas.

Do you provide ribbon?

Yes. You can choose from our numerous complementary stocked satin ribbon colors. There is an additional charge if you choose to use a different color or style of ribbon than what we have in stock. If you decide to provide us with your own ribbon, we ask that you work with your wedding cake consultant on the width and length needed and that you get us the ribbon at least 3 weeks prior to your event. Please note that wire ribbon is never used on cakes.

Do prices include fresh flowers?

No, the Baking Institute does not use nor will decorate with fresh flowers. If you wish to use fresh flowers, we advise all customers to make sure that their florist knows how to decorate the wedding cake with flowers without doing damage to the cake. We do provide you the option of ordering sugar flowers for your cake.

Can I choose more than one cake flavor?

Yes! Our cakes are completely customizable. Each tier can be a different cake and filling combination.

Which are your most popular flavors?

Cake is an extremely personal choice and we will help you match up flavors over the phone and during your consultation. Our cakes are always made fresh with the very best ingredients. They are always moist and flavorful.