Fillings and Flavors

Traditional Options
Cakes
ChocolateRich chocolate cake made with Dutch chocolate powder
Half & HalfLayered chocolate and yellow vanilla cake
MarbleSwirled chocolate and yellow vanilla cake
Yellow Traditional light and moist vanilla cake
WhiteTraditional light, airy, white cake
Fillings
ButtercreamThis traditional filling is our heaviest and most dense filling option
Bavarian CreamA luscious old-fashioned cake filling, our Bavarian Cream is our creamiest filing with a texture similar to rich sour cream
French CustardOur lightest cream filling with a texture similar to whipped cream
Our traditional cream fillings can be made in any of the flavors below:
Apricot
Mango
Blueberry
Mocha
Banana
Praline
Chocolate
Pineapple
Cherry
Passion Fruit
Dulce De Leche
Raspberry
Hazelnut (extra charge)
Strawberry
Lemon
Vanilla
Deluxe Options
Cake Option 1
Almond
Red Velvet
Banana
Hazelnut
Devil's Food
Lemon Poppy Seed
Carrot
Lemon
Funfetti Sprinkle
Cake Option 2
CheesecakeA layer of creamy cheesecake on bottom topped with a layer of white cake. Cheesecake can be filled with any of our filling options
Fillings
MousseFrothy whipped filling made with a base of Belgium white chocolate and available in flavors of Hazelnut, Lime, Mango, Mocha, Nutella, Oreo, Passion Fruit, Pear, Raspberry, Strawberry, and Dark Chocolate. Our Wildberry Mousse is made with freshly chopped up raspberries, strawberries, and blueberries
Cream CheeseA rich, creamy concoction of butter, powdered confectioners' sugar and cream cheese
CannoliCreamy specialty Italian filling made of fresh ricotta cheese flavored with dark chocolate chips and orange zest
CaramelHouse made rich and gooey sauce
Peanut ButterWhipped, creamy peanut filling
Fresh Fruit Fresh seasonal fruit of your choice is sliced up into bite sized pieces and carefully folded into a vanilla French Custard filling base. The fresh fruit options are the following; Banana, Pear, Pineapple, Peach, Kiwi, Mango, Raspberry, and Strawberry. Ask us about specialty seasonal fruits and berry options!
Fudge Decadent, hand churned rich dark chocolate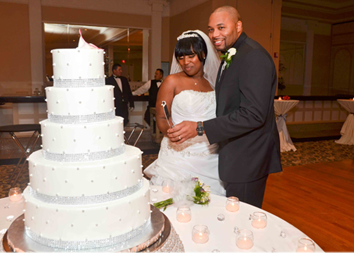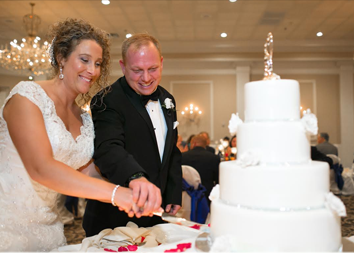 Modern Luxury Cakes
4 layers of cake and 3 layers of filling in each tier
(No Substitutions for cake or fillings)
Banana Chocolate Rum Dense and rich fresh banana cake filled with alternating layers of bittersweet chocolate ganache and vanilla rum; infused with a European buttercream.
Black Forest Layers of dark chocolate cake are filled with a chocolate buttercream filling and maraschino cherries between each layer.
Blueberry Grand Marnier A smooth rich butter cake infused with fresh orange zest, vanilla and Grand Marnier. We add fresh blueberries to the batter to create something truly unique and delicious. This cake is filled with Madagascar vanilla, orange marmalade, vanilla almond crunch, or vanilla praline crunch european buttercream.
Chocolate Chambord Deeply rich chocolate cake infused with Chambord liqueur and filled with three layers of chocolate truffles. The center layer of filling is accompanied by fresh raspberries to create a perfect balance of tartness and sweetness.
Chocolate Bourbon Truffle This chocolate cake is soft with assertive espresso undertones and superb bourbon essence. Paired with our Bourbon Truffle filling and served with fresh raspberries and French custard cream it makes a sensational, assertive chocolate cake.
Chocolate Raspberry Heaven Rich and balanced chocolate decadence cake is filled with alternating layers of chocolate and raspberry French silk buttercream for a rich yet balanced flavor.
Coconut Passion A smooth, wonderfully rich coconut cake filled with alternating layers of Passion Fruit curd and Callebaut white chocolate buttercream to make a cake that is at once tropical and city chic at the same time.
Chocca Mocha Pecan An exquisite blend of smooth Belgian chocolate ganache, rich espresso buttercream and toasted pecans.
German Chocolate Layers of moist rich chocolate cake with a sweet gooey caramel filling laced with coconut and walnuts.
Hazelnut Praline An elegant cake filled with rich praline, Frangelico hazelnut liqueur and toasted hazelnuts.
Lemon Zest This cake is infused with fresh lemon and Italian Limoncetta Di Sorrento liqueur and smothered in a piquant lemon curd buttercream.
Moist Carrot This carrot cake is a mix of freshly grated carrot and fresh pineapple, generously scattered with nuts, drizzled with honey and layered with cream cheese frosting.
Raspberries and Cream Vanilla sponge cake soaked in Crème de Framboise raspberry liqueur and layered with raspberries and fresh cream.
Strawberry and Vanilla Layer Vanilla sponge cake layered with strawberry-flavored buttercream and whipped vanilla buttercream.
Tiramisu Luscious chocolate cake infused with Italian espresso and coffee liquor with layers of our rich mascarpone cheese filling.